Cultural and Educational Tours
---
We organize and provide guidance for educational and cultural tours to the United States. We schedule visits to Universities, arrange meetings with designated persons (i.e., deans, chairs, etc.) at those schools.  We also organize cultural tours to the historic and cultural attraction centers in the US.
[divider style="clear"]
Our cultural tour locations for New York City (Sample)
[divider style="clear"]
[heading]
Statue of Liberty and Battery Park[/heading]
The Statue of Liberty was France's gift to America. It was built in 1886 and remains a famous world symbol of freedom and one of the greatest American icons. It is the world's largest statue and stands just less than 152 feet tall from the base to the torch, and weighs approximately 450,000 pounds. The statue offers a fine view of the New York Harbor and lower Manhattan. It is located on Liberty Island and a short boat ride is required to get to the statue. To see the statue from shore, Battery Park sits on the southern tip of Manhattan and affords great views of New York Harbor and the Statue of Liberty. From here visitors can catch the ferry to the statue and Ellis Island.
[heading]
Empire State Building[/heading]
Along with the Statue of Liberty, The Empire State Building is New York's most famous landmark. The 381 m tall, 102-storey building was the tallest in the world until the 1 World Trade Center tower rose higher 41 years later. Topped with a mooring mast for airships, the Empire State Building immediately became a landmark and a symbol for NYC when it opened in 1931. There are actually two observatories at the Empire State Building. The 86th Floor Observatory (1,050 feet) is reached by high speed, automatic elevators, and has both a glass-enclosed area, which is heated in winter and cooled in summer, and spacious outdoor promenades on all four sides of the Building. The 102nd Floor Observatory stands 1,250 feet above the bustling streets below. On clear days visitors can see for distances up to 80 miles, looking into the neighboring states of New Jersey, Pennsylvania, Connecticut and Massachusetts, as well as New York.
[heading]
Central Park[/heading]
Central Park is the playground of New Yorker's. This huge park in the city center is one of the things that makes New York such a beautiful city and not simply a concrete jungle. The park has many attractions within its borders and has been featured in countless TV shows and movies. Some of the places of note within this green space that visitors will probably be familiar with are Strawberry Fields, the Central Park Zoo, and the Lake, which is used for skating in winter, and paddling in summer.
[heading]
Metropolitan Museum of Art[/heading]
The Metropolitan Museum of Art, or "The Met" as it is commonly known, was founded in 1870. The permanent collection at the Met contains over 2 million works of art. Highlights of the collection include American decorative arts, arms and armor, costumes, Egyptian art, musical instruments, and photographs, along with much more. The Cloisters in northern Manhattan is a branch of the Metropolitan Museum of Art which focuses on the art and architecture of medieval Europe.
[heading]
Rockefeller Center[/heading]
Rockefeller Center is a vast entertainment and shopping complex in the middle of Manhattan, and home to NBC-TV and radio and other media. There is an outdoor skating rink which is incredibly popular in winter. At Christmas a huge tree stands out front. Inside are shops, restaurants, and an observation deck. In front of the International Building is a famous sculpture of Atlas. The centerpiece is the 70-storey RCA Building, a slender, towering structure that offers views of midtown Manhattan. If you are looking for a place to see the city skyline, try the Top of the Rock Observation Deck.The "deck" includes three floors, located on 67th, 69th, and 70th floors. There are both indoor and outdoor viewing spaces, which are open to the public day and night. Buy your Top of the Rock Observation Deck Ticket in advance to make sure you don't miss out. These tickets come with a flexible voucher redemption policy so you can change the date if your plans change or the weather doesn't cooperate.
[heading]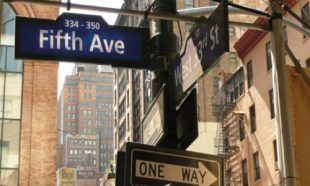 Fifth Avenue[/heading]
Fifth Avenue has long had a reputation as New York's premier shopping area. Many top end designers have their flagship stores located along this famous avenue. Cartier, Tiffany, Bergdorf-Goodman, the famous Apple Store Fifth Avenue, and of course Saks Fifth Avenue, as well as many others line the posh avenue. Even none shoppers can enjoy a walk along Fifth Avenue.
[heading]
Times Square[/heading]
Formerly Longacre Square, Times Square was named in 1904 after the New York Times tower. The newspaper first posted current headlines along its famous moving sign, the world's first, in 1928. Long the heart of the Theater District, Times Square fell into decay during the Depression when many theaters shut down. The city cleaned up the area by inviting corporations such as Disney to move into the area. Today, Times Square has become a much safer place, day and night, with shopping, theaters and restaurants galore, not to mention its mammoth billboards.
[heading]
New York Public Library[/heading]
The New York Public Library's main branch was designed by architects, Carrere & Hastings, in the Beaux Arts style. The library, with its impressive rooms, is a prominent city attraction that has been featured in many movies and TV shows over the years. Visitors may even feel a sense of familiarity upon entering. Although colloquially known as the main branch, the proper name is actually the Stephen A Schwartzman building. It opened in 1911 to immediate acclaim. An enormous library, the Main Reading Room alone stretches two city blocks and the Periodicals Room holds 10,000 current magazines. The collection at this location is vast to say the least.
[heading]
Wall Street[/heading]
Stretching for 8 city blocks from Broadway to South Street is the world famous Wall Street. This street and the surrounding area are home to some of the most important exchanges in the world including the New York Stock Exchange, the NASDAQ, and the New York Mercantile Exchange. Also located nearby are the impressive Trinity Church and the Federal Reserve. Wall Street is a popular tourist attraction and it is common to see a large number of tourists walking around craning their necks looking up at the impressive skyscrapers.
[heading]
St. Patrick's Cathedral[/heading]
St. Patrick's Cathedral is one of New York's finest examples of Gothic Revival, with its massive bronze doors (weighing 20,000 lb each), white marble facade, 330 ft spires, the Great Organ, rose window, bronze baldachin, 2,400 seating capacity, and the statue of Pieta at the side of the Lady Chapel. With more than 5.5 million visitors annually, the cathedral is a major destination for believers and tourists alike. The building was erected in 1879 and has been carefully restored and maintained throughout its existence.[divider style="clear"]
Our educational tour locations for East coast
[one_fourth first=]
[heading]Harvard University (Massachusetts)[/heading]Harvard is located in Cambridge, Massachusetts, just outside of Boston. Harvard University is a private institution that was founded in 1636. It has a total undergraduate enrollment of 6,699, its setting is urban, and the campus size is 5,076 acres. Harvard's extensive library system houses the oldest collection in the United States and the largest private collection in the world. [/one_fourth]
[one_fourth first=]
[heading]Columbia University (New York)[/heading]
Columbia University, located in Manhattan's Morningside Heights neighborhood in New York City, offers a wide range of student activities. Columbia University is a private institution that was founded in 1754. It has a total undergraduate enrollment of 6,102, its setting is urban, and the campus size is 36 acres.[/one_fourth]
[one_fourth first=]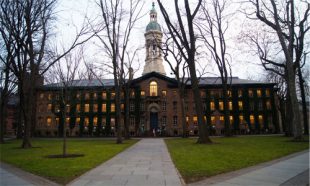 [heading]Princeton University (New Jersey)[/heading]
Princeton, the fourth-oldest college in the United States, is located in the quiet town of Princeton, New Jersey. Princeton University is a private institution that was founded in 1746. It has a total undergraduate enrollment of 5,402, its setting is suburban, and the campus size is 600 acres. It utilizes a semester-based academic calendar. Within the walls of its historic ivy-covered campus, Princeton offers a number of events, activities and organizations. [/one_fourth]
[one_fourth first=]
[heading]Yale University (Connecticut) [/heading]
Yale University, located in New Haven, Connecticut, is known for its excellent drama and music programs, which reach outside the classroom with student organizations such as the Yale Whiffenpoofs, a famous a cappella group, and the Yale Dramatic Association. Yale University is a private institution that was founded in 1701. It has a total undergraduate enrollment of 5,532, its setting is city, and the campus size is 343 acres.
[/one_fourth]